This is the original tank when i got it. Kinda dirty but i cleaned it up a bit. It looked real nice. Came with some homemade oyster shell decorations, a big piece of rock and a couple of pieces of live rock. there were a few inhabitants, hermit crabs, a snail and a clown fish. well after about a week i started looking at the tank and wondering where was i going to put it, and started considering even more about adding to it. So naturally the only option was to upgrade the size of the tank.
I decided to use my 29 gallon freshwater tank. I took all the inhabitants, plants, driftwood, sand evverything out.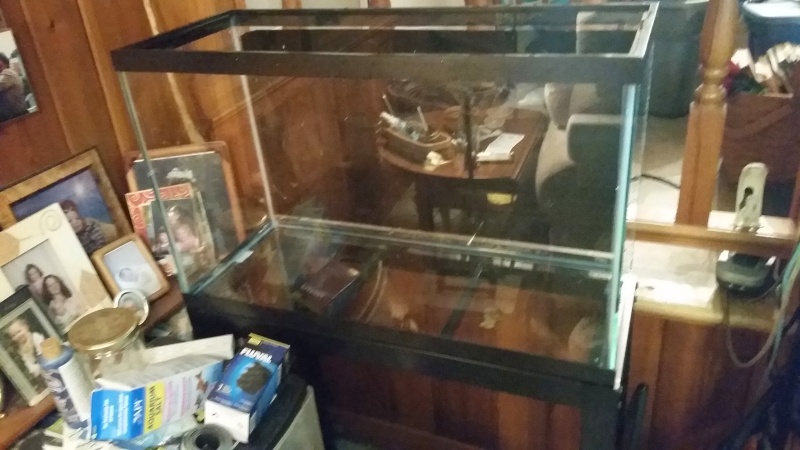 i took it out back, hosed it out and scrubbed it with 1:1 vinigar water, like you would do cleaning any tank.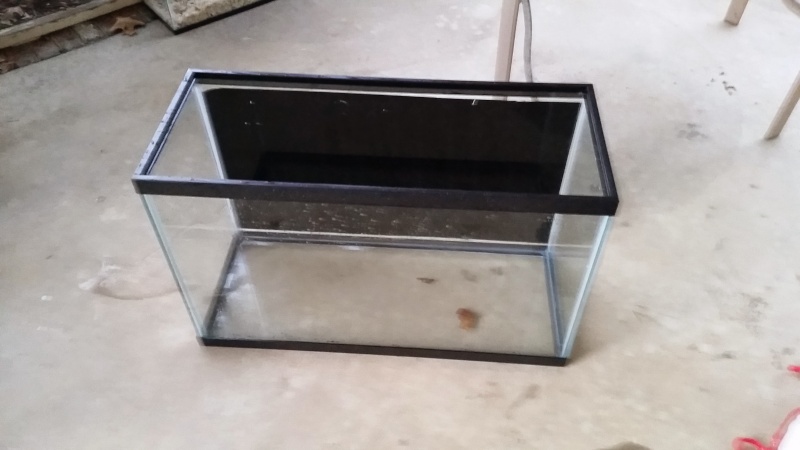 Sense i was upgrading the tank size, everything needed to be upgraded. I used my Fluval 206. I did some research and read people going back and forth over it being a nitrate trap, all in all i decided to go with it cuz i already had it available. One day i might upgrade to a small sump but for now im using it.
So I used the same vinegar water to clean it, soaked it in HOT water for about a day. after all the crud inside the filter and filter baskets (YES i even cleaned the hoses out) was gone, i ran it in the sink for a couple of hours just to make sure i got everything out.
just trying to keep freshwater trash out of the new tank.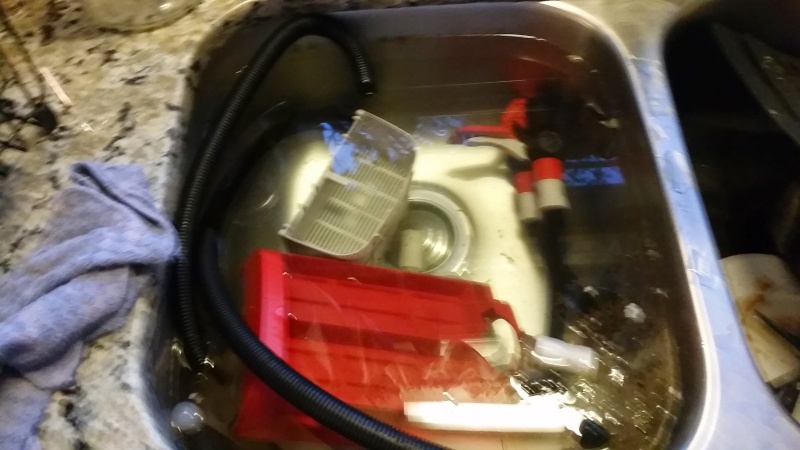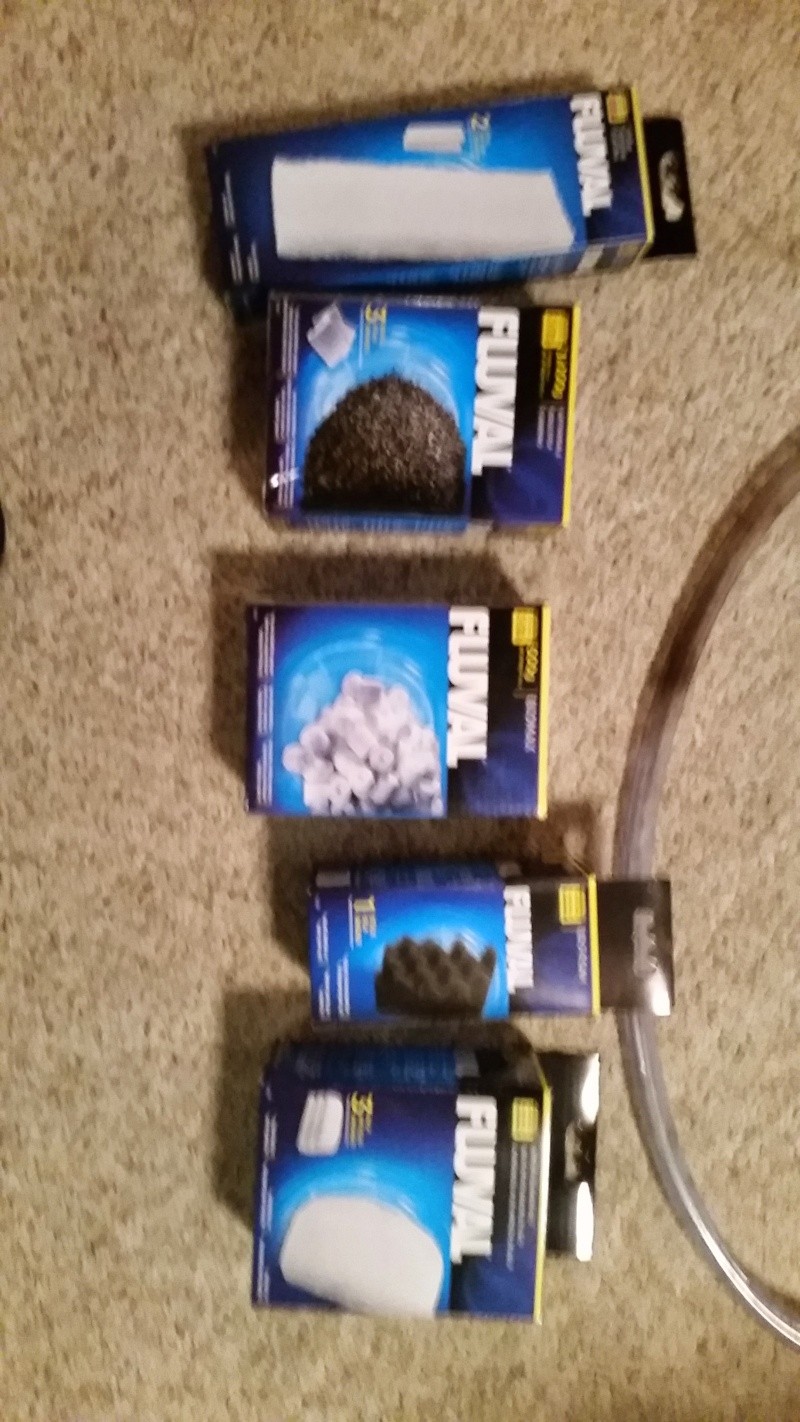 I trashed all the media i had that was in it, and swapped it for some fresh stuff. Yes I'm using the exact fluval media that you would use for a freshwater tank. the carbon is good for the tank to remove any kind of toxins and such, of course the sponges are great for partials, and even the bio rings. The live rock is the majority of your biological filtration but whats a little more, so i kept them in there. the only thing i do different is i add in some filter floss on every basket just to give it a little more filtration.
Good start dude.. I've still got that cheap hydro meter for ya!
Bill



Posts

: 1207


Join date

: 2012-12-29


Age

: 65



ive got more to go just got stopped by my break here at work so lol they'll be more to come
I also Kept on a hang on back filter from the old tank just to add on some supplemental filtration. Can never have too much.
So i have my filter set up, tank cleaned, heater good, I then move on to set up the inside of the tank, the goodies.
for anyone that does not know (i didn't until after some extensive research on saltwater tanks) live sand has beneficial bacteria in it to help start a tank up. It helps quicken the cycle of the tank. also later down the road, just like in a freshwater tank the bacteria helps break down the waste. So I used half live sand from petco and half sand from the 20 gallon. I figured the 20 gallon had been established for so long that the sand most likely had a good amount of good bacteria in it to help.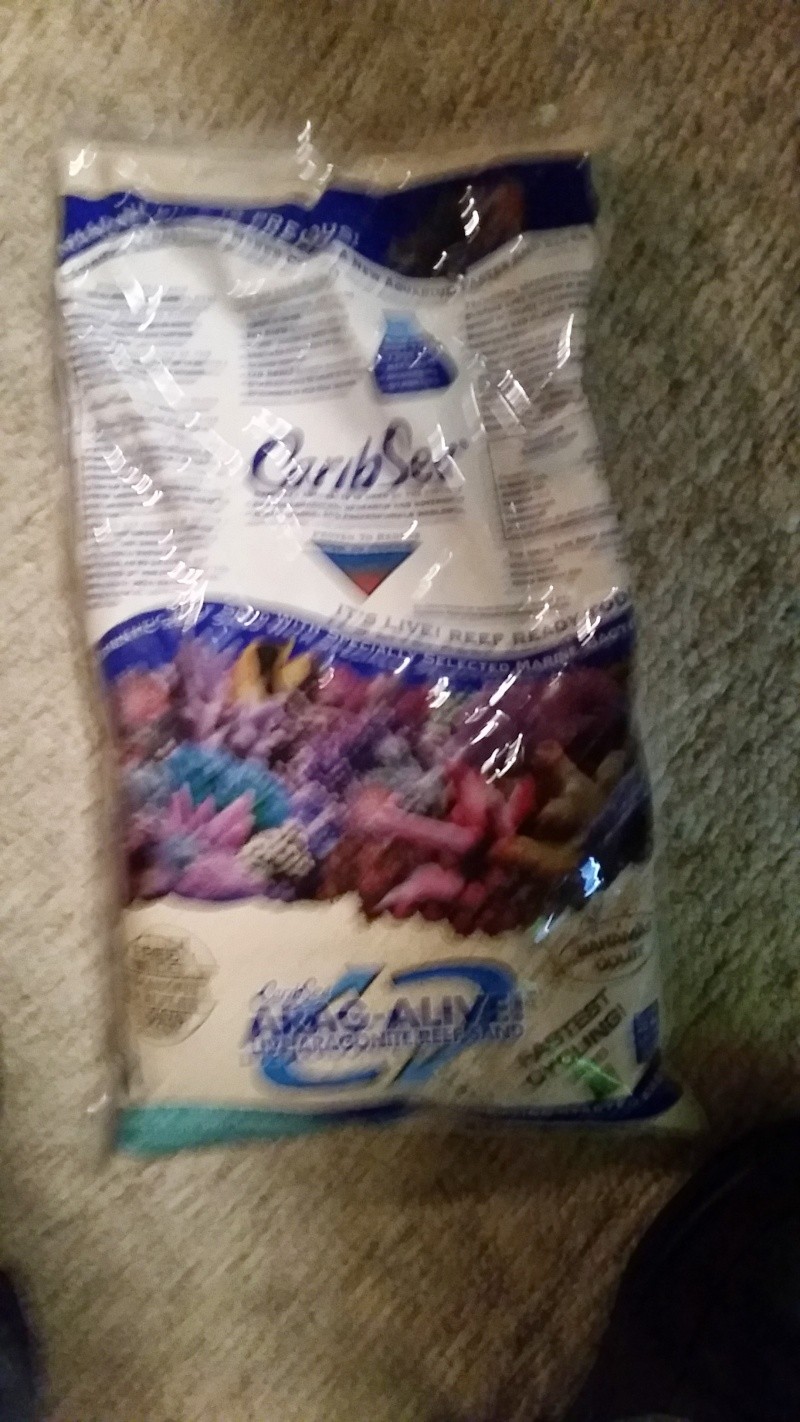 Live sand comes in a big bag like this. it has a little bit of water to keep the bacteria from drying up.
Next I needed to add the live rock. I took the large piece of rock from the 20 gallon tank and used it as a main rock. then i had a couple of pieces of live rock i picked up from a local salt shop here in Chester. The rock was already seeded with good bacteria to help speed up the cycling of the tank. if you look at it, its not white, it actually has a tan color to it. Thats the good bacteria. The only downside to buying pre-seeded rock is sometimes it will have little hitch hikers on it. Worms, little tinny star fish, sometimes things that eat coral. I took the chance though. Its a little more expensive then dry rock (non pre seeded rock) but imo its worth it to speed up the cycling.
i then filled the tank with as much water from the 20 gallon tank as i could. This was due to 1) any good bacteria that might be in the original tank 2) good salt mix. The rest i had to go out to the store once again and pick up 2 buckets of premixed water. unlike freshwater you cannon just add a little prime to tap water and roll with it. Plus i did not have the time to deal with mixing salt at the time. Was rather cheap 1$ a gallon.
then of course after the tank was filled and salinity tested (1.022-1.025) I placed the clown fish and crabs in. the tank was awesome looking!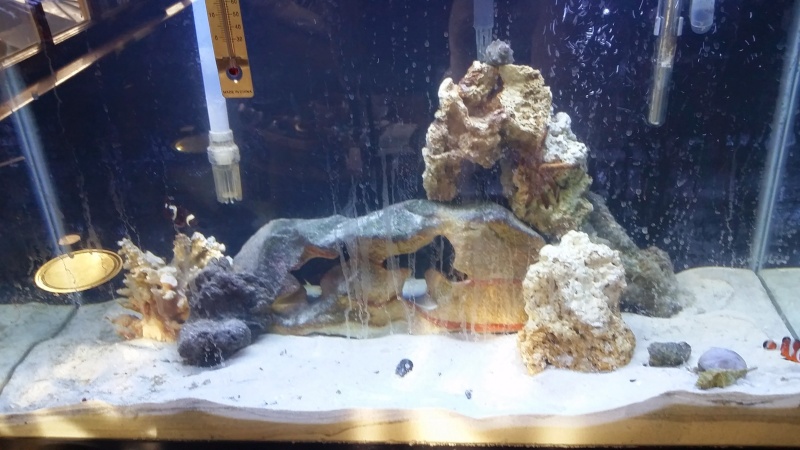 this past week the ammonia cycle was ending so i decided to add more fish and change out the big old rock for some more live rock. I also have been using purple up, a coralline algae starter. it is an algae that will actually grow the rock bigger and the hermit crabs will eat it. it also just looks cool. well i started seeing a little bit on my rocks so I figured it was a good time with the cycle hitting a new point and that, that it was a good time to do so. so i went and dropped a good chunk of change on some more rock. I arranged it in a cool way. I used a marine safe epoxy putty to secure the rocks to each other. Worked real well.
I also decided to get a few more inhabitants.
Got a goby (not sure what type). He sifts the sand through his gills and eats up the uneaten food.
Another clown fish, Maroon (to kinda give it a Virginia tech look)
A see star
and a firefish goby.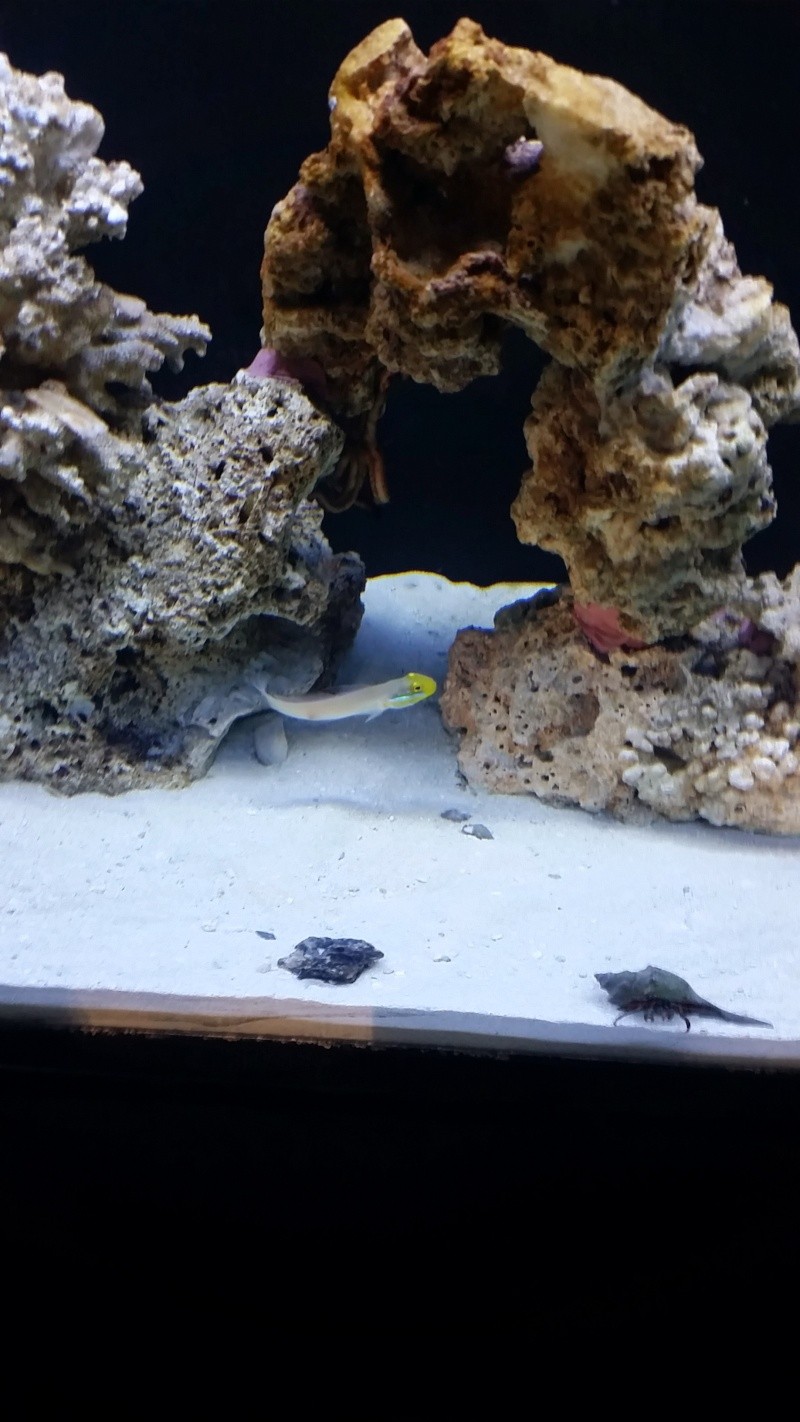 Here u can see my mystery goby and if you look at the rock u can see a few things
the tan color to the rock that i mentioned earlier, showing that its seeded well
look towards the top of that same rock and you will see a purplish color, that is the coralline algae.
also u can see the epoxy putty that is holding the rocks together. it will blend in after a while when the rocks seed more and the algae grows a bit more.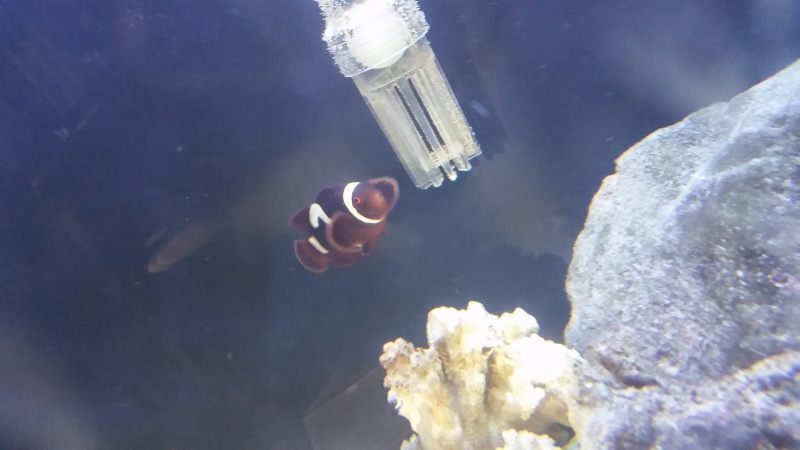 here is the tank as of now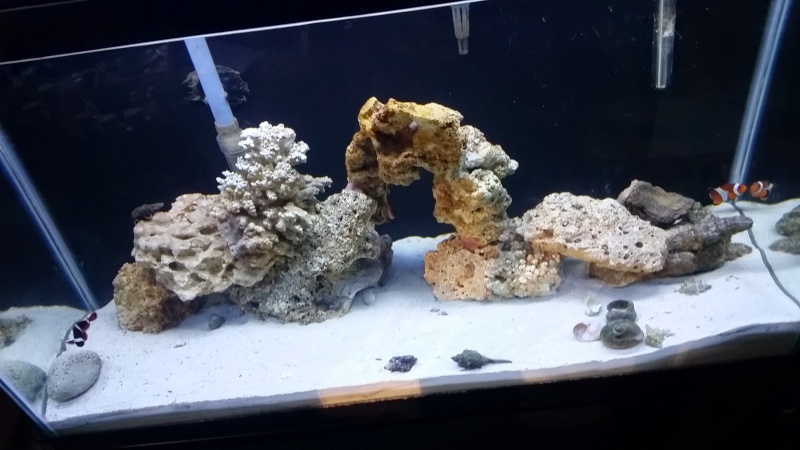 I do plan on adding coral to the tank.
I absolutely love saltwater, and i plan on doing so much with this tank
Coral is coming as soon as the cycle is over.
If you have any questions or any constructive criticisms please let me know.

---
Permissions in this forum:
You
cannot
reply to topics in this forum