I was considering toying with this design.. and might still do so.. A really interesting concept that's swept the Euro fish keeping community: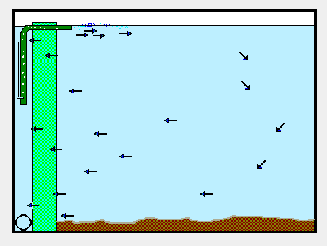 here's the article from which I high-jacked the pics from.. WARNING: .. it can become pretty entangled in the weeds!
http://www.janrigter.nl/mattenfilter/



Posts

: 1207


Join date

: 2012-12-29


Age

: 65



That's so funny. That's what I was planning on doing for the two 20H that I am getting ready to set up. I was looking on youtube this weekend and found quite a few videos about HMF. I think i'm going to give it a try. It looks like a much more efficient design than regular sponge filters. Do you have any idea where to find the foam? Let me know how it goes.



Posts

: 72


Join date

: 2014-01-20


Age

: 48


Location

: Midlothian



http://www.swisstropicals.com/filtration-shop/poret-foam-shop/
Specific HMF info:
http://www.swisstropicals.com/library/mattenfilters/
A guy up here is talking about getting foam from a cheaper source. If I can get extra, I will post here - may be able to have it at the PVAS April Auction. This guy has his own angel hatchery, so I am confident his is a safe source.
I will warn you that not all open cell foam is the same. I have a bunch of speaker foam that will not work because it apparently is treated with fire retardant chemicals - killed a few test shrimp figuring that out.



Posts

: 203


Join date

: 2013-01-10




---
Permissions in this forum:
You
cannot
reply to topics in this forum