I personally like parent raisers there is nothing more enjoyable to watching then a parent raising their young. In some cases you are bound to find one or two bad parents; the parents are so clues that they keep eating their eggs even after having multiple spawns. What I usually do is artificially hatch the eggs and once they are in their wriggling stage I put them in a gallon jar which are trapped by sponge filters. So the babies can't be eaten by parents but can be seen by them. I usually keep them until for about 2 to 3 weeks. Once they start looking like angelfish I usually let them out with the parents or move them to a bigger tank. Once you are let the fry out do it slow to see if they will eat the fries or not. This method isn't fail proof but thought I would share :p. I have raised angelfish where none of the parents even laid eggs but they started tending to the youngs like their own.
pic of a rearing jar kit-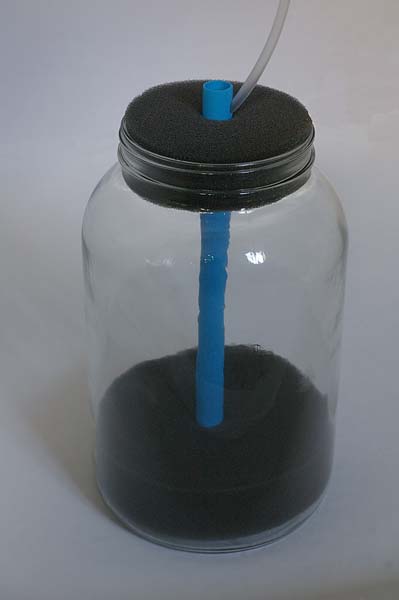 If you kept or bred angelfish I'm sure you have came across breeding pairs. Now my questions to you is do you prefer parent hatching or artificial hatching???
Neo.. I've read of a lot of debate on that issue.  One big platform of the natural rearing is the transference of parenting to the fry.  Artificial rearing, according to one side of the debate, inhibits that trait.. Bill
I used to think that way but it all depends how you do it. The parents seeing their fries sometimes change their behavior. Most of the pairs that are bad at parent raising usually keep picking at the white eggs. With their eye sight it's not as accurate as they think. They usually end up picking more than just the white eggs. The good pairs wait the 48- 72 hour before they touch the white eggs.
Neo..."GOOD" parents that wait 72 hrs to remove bad eggs would likely lose MORE eggs to fungus than they would accidentally eating a few viable ones. NOT an accurate assessment, IMO.
Also, keeping fry in a 1 gal jar until body transforms will cause deformities/ small substandard fish....they NEVER recover fully from this and will always suffer by comparison to fry reared in adequate space. Hatch jars are no exception.



Posts

: 365


Join date

: 2012-12-31


Age

: 51


Location

: Midlothian/Powhatan



Neo.. I bit my tongue initially about rearing the fry for that duration in that one gallon jug.  Doxie pretty much nailed my thoughts but did leave one issue out that I think plays a big role on subsequent parenting.  By keeping the fry in that jug, you are depriving both the parents and the fry of that bonding trait that are the signs of good parents.  While I've not ever had any fish "on the couch", I would think the job of herding the strays back to the fold as well as the fry maintaining their cloud around the parents is part of that skill development process.  Those two acts would, in my humble opinion, cause an imprint in the fry that instills parenting skills when their turn comes!  Additionally, again, Dox was right about the white eggs.  Leaving the eggs without the parents to do the housekeeping, even if it results in a few viable eggs being eaten, leaves the infertile eggs in proximity to the good eggs and would encourage the spread of fungus from the bad to good!
I suck at keeping track of time from laying to free swimming. But I shall try to document what a good parents vs a bad parent does before the wriggling stage. One question though what do you do when a pair simply won't cooperate and keeps eating their eggs???
I think I've read somewhere that 4-5-6 occurrences of the parents eating the eggs isn't uncommon... Only after having been given a chance with natural rearing would I think it's time to artificial time! Bill
If you what to raise alarge number of angels learn to hatch without parents Most pairs will eat eggs or fry the first dozen times.



Posts

: 110


Join date

: 2012-12-30


Age

: 67





Similar topics
---
Permissions in this forum:
You
cannot
reply to topics in this forum