It's time for me to select a pair out of a six pack for spawning. I did some research on how to select the candidates. Has anyone a better method of selection than the following?
A potential method for sexing discus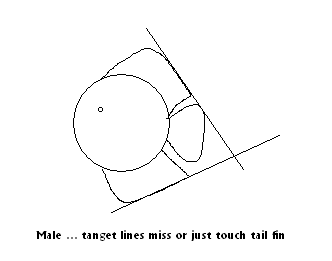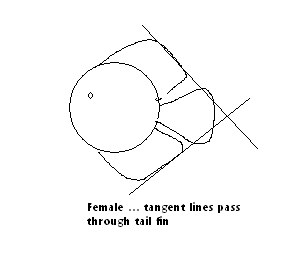 Sexing discus has always been problematic at best. However, I recently read an article in Diskus Brief which describe a method for sexing Discus that has been very reliable for me. The method described uses "geometry" to determine sex ... Picture a discus facing to your left ... you would be looking at it's side. Find the Dorsal (Top) and Anal (bottom) fins and look where the fins slope down toward the Caudal (tail) fin ... make sure you're looking at the fins after they have curved back toward the tail. The Dorsal and Anal Fins become (almost) straight after the fins curve down (or up) toward the Caudal Fin ... extend an imaginary line along this straight section of the 2 fins back toward the tail which just touches the Dorsal & Anal Fins past the Caudal Fin. These two imaginary lines should intersect behind the fish. The key to sexing the fish is where the lines cross the Caudal fin. If they pass through the Caudal Fin, the fish is most likely a FEMALE. If they miss or just touch the Caudal Fin, then most likely it is a MALE.
Logically, this makes sense, since the Male fish tend to have higher bodies than the females (causing the lines to miss the tail).
Can discus not be vented?
Al.. I'm not sure what your asking. Are you referring to the breeding tubes and the variance in them? If so, I'm trying to select prior to breeding activity occurs...
Well, with Africans, you can just 'look up their skirts' at any time and tell who's who - doesn't have to be spawning time. Does that not fly with discus?
This method well sometimes work but with so much cross breeding in discus the only certain is as with angels a viable brood of fry!!!! LOL Easiest way is to let them pair naturally once you know for sure then put a male and female together.



Posts

: 99


Join date

: 2012-12-31


Age

: 60


Location

: Ft Myers, FL



No..looking up their skirts doesn't apply with Discus. It was suggested elsewhere to set out a pic of a six-pack of bud, the sports section at one end of a tank.. and at the other end a pic of some shoes and some makeup and they'll let ya know in that manner.
That may not be entirely reliable, either, lol.

Now that I think about it, every species I've kept except one has been dimorphic, so I've never had to wonder, really. Even those males who lay way low can almost always be picked out by coloration.
Sounds frustrating.
I've had angels and heard of Discus that 2 females mate. (of course no viable eggs) and some males are just infertile. So like I said until you get a viable spawn no guaranty!!!!!!!!!




Posts

: 99


Join date

: 2012-12-31


Age

: 60


Location

: Ft Myers, FL



Well the selection process is complicated by the fact that a few of them engage in "confrontations". The question is are these occurrences courtship or alpha/beta domination among two of the same gender.
Just gotta watch their tubes when they drop, same as angel tubes. Shape may mislead you.
Bowing is a pre mating ritual along with lots of rubbing and shaking, you see that odds are you have a pair, but like Vix said it could be two females.
Fighting is them figuring out who could be worthy, all hell breaks out when they reach that age, they just all fight. And they will up their slime coat at that point too so some will literally be dripping with slime, another 'worthiness' thing, gotta feed the young!
You can break pairs with discus most of them are ok with it, but you do get the really attached pair once in a while that really are mated for life.


Admin




Posts

: 164


Join date

: 2012-12-20


Location

: Ft Myers FL




---
Permissions in this forum:
You
cannot
reply to topics in this forum