When shopping for Discus there are a number of considerations you might want to consider. Two of the more critical traits to consider are: Body conformity and relative eye-size.
Body Conformity: This is the concept that the body (meaty portion) should be as close to a standard circle as possible. There should be no "slope" off the back or belly towards the caudal fin. This is ONLY considered in show fish. In reality, it has no effect on their health nor longevity. Nor their contribution to your enjoyment of your charges.
Relative Eye Size: A Discus that has a disproportional eye size, compared to the body, indicates an issue during it's early development stage. Usually stunting due to nutrition or tank limitation.
Some varieties of Discus, such as Pigeon Bloods, tend to ignore this rule.
Here is the Eye-Size Chart that will help in your evaluation: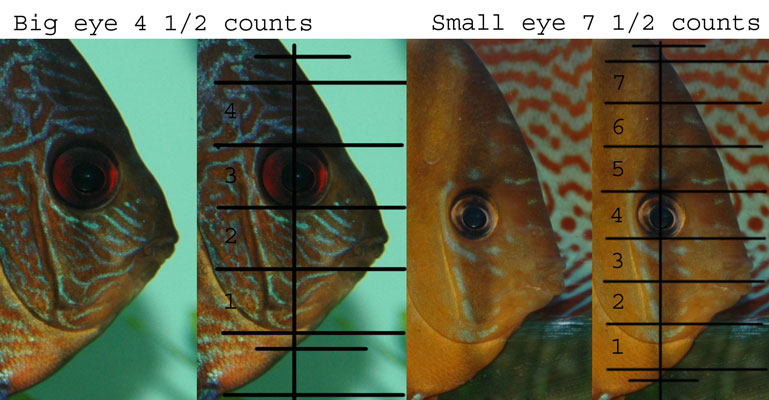 Debate on this is most welcome!



Posts

: 1207


Join date

: 2012-12-29


Age

: 65



There are so many defects in Discus that I'm almost afraid to buy them without seeing them first.



Posts

: 99


Join date

: 2012-12-31


Age

: 60


Location

: Ft Myers, FL



FV.. so chime on in with what you'd be looking for in an eval!... We can all learn and hopefully will never stop learning!.. Bill



Posts

: 1207


Join date

: 2012-12-29


Age

: 65



wow im ganna consult you before i get discus in the future




Posts

: 163


Join date

: 2012-12-29


Age

: 33


Location

: Chester




---
Permissions in this forum:
You
cannot
reply to topics in this forum