Ctenopoma acutirostre.

aka Leopard Bush Fish.

Any feedback or thoughts about these guys?
Call Dave Schumacher at Dave's Rare Aquarium Fish. He's a super-nice guy and will most likely try to find it for you.



Posts

: 175


Join date

: 2012-12-20


Age

: 38


Location

: Williamsburg



They aren't on Dave's current list. I don't recall seeing them on his list previously but I may have missed them.

If you are getting an order from Dave's Fish, then I would definitely see about adding them to the order. I would check with a local pet store and see if they can order one for you.

I haven't kept them, but I have heard they are really cool fish. Great for getting rid of unwanted fry, but will leave alone any fish that they can't eat.



Posts

: 203


Join date

: 2013-01-10



I've never seen them on his list, either, but if he can get them, he will.

You might also check with Rama - he might be able to get them, too.



Posts

: 175


Join date

: 2012-12-20


Age

: 38


Location

: Williamsburg



I already bought two of the fish yesterday.

There was a third male in there but I didn't get him.

I read up on it, just wondering if anyone else here kept them.
So far these two little guys are doing ok. Tried to get better shots of them but they're very aware of me in the room and esp the phone being put to the glass. They're staying in the plants or the back of the tank mostly. They are super fast!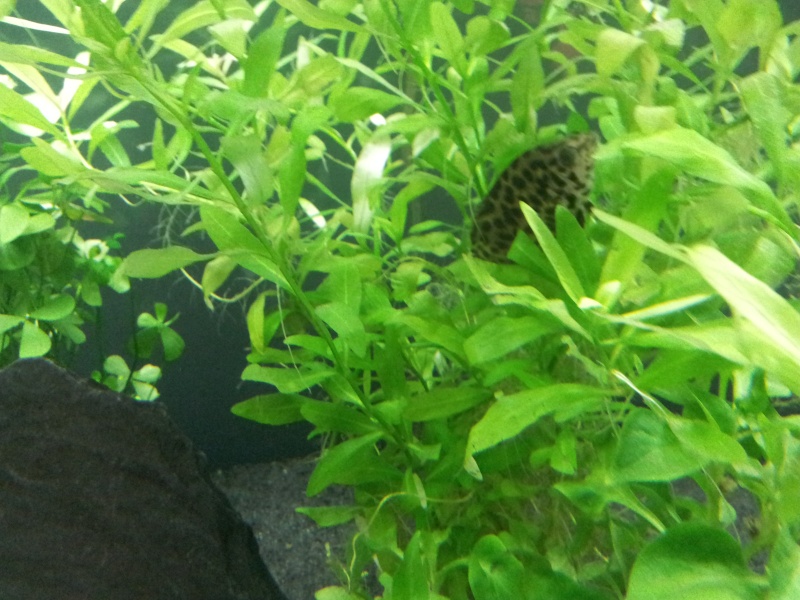 http://www.tropical-fish-friends.com/leopard-bush-fish.html
I have had 3 of these fish (in different tanks) and one that is 6 years old or so still around. They are great fish, gain more of a personality as they age, and recognize their food source and come and greet you. They seem to not bother other species given they stay out of their space. I'll tell ya I don't feed this fish live fish even though they eat that in the wild, one because of disease, and two I have noticed when this fish feeds ONLY on live fish it becomes a lot more reclusive and secretive so to speak. Now this is not saying that I never feed live, I will every once in a while as a treat. One last thing I will mention is that they can be shy at feeding so make sure your other tankmates don't eat all the food before the Leaf fish can. If you have more than one in a tank I would suggest to get one more and let them grow together, if you just keep two one will get beat up by the other as they age. When given more than one fish to harass they seem to get along better, 1 or 3(+).



Posts

: 68


Join date

: 2013-01-08



OK... I went back and got the third one.
great! I really hope that everything turns out great for you!




Posts

: 68


Join date

: 2013-01-08




---
Permissions in this forum:
You
cannot
reply to topics in this forum